Root
Open login modal
Close login modal
Open account menu
Close account menu
Current Diagnosis and Treatment: Pediatrics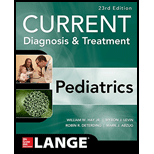 Current Diagnosis and Treatment: Pediatrics
Add Homework done fast. Homework done right.!
Get access to millions of textbook solutions and tools to support your writing. Try now to get your first month for free. Trial begins at time of purchase then is auto-renewed for $14.99/month. Cancel at any time.
View samples for Q&A
Nursing Tutor Q&A sample

Q&A Sample
* Offers available only to new users. Monthly plan option: One month trial starts at time of purchase. After trial, subscription automatically renews at $9.99/month unless canceled. Five month plan option: Purchase a 5-month plan for a one-time charge of $39.99. Subscription starts at time of purchase, does not auto-renew, is non-refundable, and cannot be canceled.